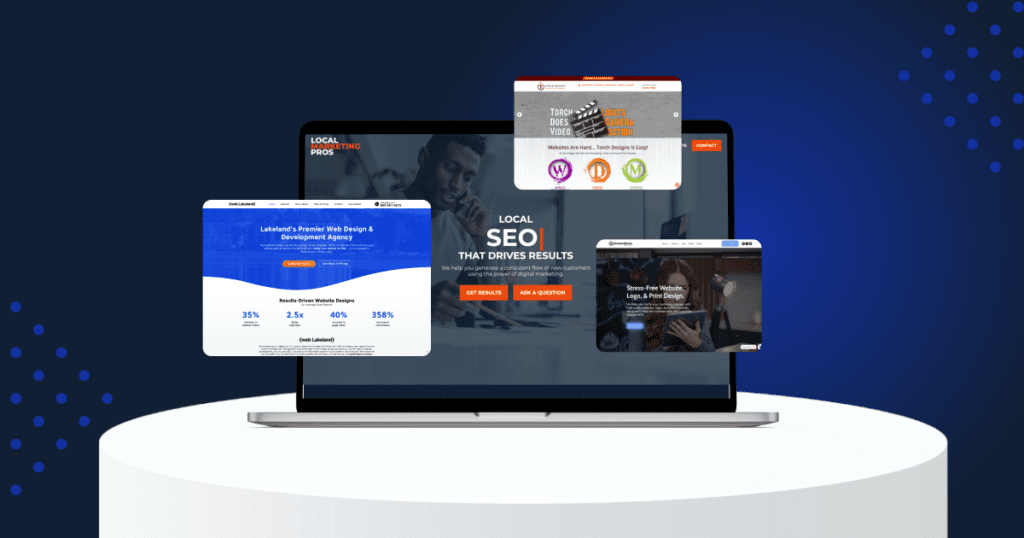 Regardless of what kind of business you run, your digital presence will be a critical part of your success. The foundation of your online presence is your website because it is one of the main online resources your potential customers will review before they decide to do business with you. How your website represents your business is crucial because it means the quality and functionality needs to make it easy for your customers to not only find you, but also understand what you do and how to buy from you.
We've assembled a list of the five best Lakeland web design companies that build high-performance websites to help their clients reach their online audience, make more sales, and grow.
You might be thinking to yourself "Wait…don't you offer website design? Why are you suggesting I go somewhere else? Won't you lose sales?"
The short answer is "Yes," may lose sales and you (or someone else) may go to someone on the list…but that's ok!
You see, we understand that we're not the right fit for everyone. And if we're not right for you, then we want to give a list of other website design companies in Lakeland that we'd be happy to recommend. Not only that, we wanted to leave ourselves off the list to keep this unbiased and helpful for you.
The list below was developed using our 15+ years of experience evaluating multiple factors including the agency's website, number of reviews, overall rating from reviews, and their client websites.
A full-service digital marketing agency. We have a variety of services in our arsenal that help businesses succeed. Inbound marketing is a comprehensive approach to your online presence. Maximize will generate traffic to your website, capture leads, and nurture those leads into customers. 4.9 Stars (28 Reviews)
At TBA Marketing, we love helping entrepreneurs, established businesses, entertainers, & athletes further their brands. We start by identifying your ideal customer and getting your brand and content in front of them. We customize strategies for our clients based on their goals and dreams. 4.8 Stars (82 Reviews)
A Full-Service, Google Certified, Digital Marketing Company that specializes in Website Design, Branding and Software Development. Our team of specialists will work closely with you to ensure that you achieve your target Image, Efficiency and Return on Investment goals. 4.8 Stars (25 Reviews)
Helps business owners increase sales and customer engagement with stress-free creative services, including website design, logo design, and print design. 5.0 Stars (69 Reviews)
Web Lakeland, LLC is a business that cares about its clients as much as you care about yours. They are so confident that you'll love your website and their services that they will design your website for FREE – with no obligation. Your site redesign is on them. 5.0 Stars (24 Reviews)
BONUS: Spark Sites is a fantastic web design solution for solo or overwhelmed entrepreneurs.  Their web design solution is very affordable, even for very a tight start-up budget.  Also, to help you focus on your business, they will help manage hosting, site updates, and other needed changes as your business grows. 5.0 Stars (14 Reviews)
So…What's Next?
Even with the shortened list above, making the choice of who to contact or trust with your website design needs can be extremely overwhelming. No doubt any one of the companies listed above can help build a website for your business, but what really separates them is company culture and personality. When making the decision on who to work with, culture should be a separating factor for your decision. You should work with the company that not only shows the capabilities to make the site your business needs but also who you enjoyed the most when connecting with them so they could learn about your business.
When you "partner" with a service provider to fulfill the needs of your business, it's very important you have some professional and social chemistry. Another critical benefit is knowing how the company works. What is their process? Who will you be working with directly? How are support requests handled? Who seems most likely to help you navigate the challenges of the web design process and help produce the best results for your budget?
If you are having a hard time deciding between multiple companies, dig deeper into who they are and how they work by scheduling another call to ask some deeper questions, ask to speak with team members you will be working with, or ask to speak to some of their past clients. Another great insight into a company is the reviews their clients leave for them. While the overall rating from the reviews is important, a stronger indicator of results and capabilities is the number of reviews the company has received.
This is what some of our clients say about working with us:

You can see more reviews on Google, Clutch, or UpCity.
If you would like to have to schedule a chat about your web design needs, we're happy to help you find a company we feel would serve you best and certainly welcome the possibility of earning your business for our team. Either way, we guarantee you will leave a meeting with us prepared to get an amazing website from whoever you choose to work with on your project.
If you'd like to get your current website checked, click here to take advantage of our free website grader.