Google Business Profile, previously known as Google My Business, is a free marketing tool that you can use to enhance your visibility online and reach more of your target audience. If you're not reaching your local customers or want more traffic to your website, then setting up a Google Business Profile is exactly what you should do next.
Not only is it an excellent tool to have on your side, but it's also FREE. You read that right, FREE!
Unlike a Facebook page, a Google Business Profile for your company will help you get more customers through the door – but just having one isn't enough.
Optimizing your Google Business Profile is just as important, if not more important, than setting one up in the first place. An optimized profile shows your audience you're a real business that's currently open, offering the services they need, and improves the chances of Google pushing your company to the top of the search results.
There are many ways you can optimize your Google Business Profile, but today we're going to show you eleven of the best ways to improve your business profile on Google.
How to set up a Google Business Profile
Before we get into how you optimize a Google Business Profile, we need to take a moment and help those who've never set one up before.
If you already have your business profile ready, you can skip this part and go straight to optimizing a Google Business Profile.
But if you, like many other businesses, haven't set one up yet, let us run you through the process.
Step 1 – Sign in to Google Business Profile Manager
The first thing you have to do to get your Google Business Profile up and running is to sign into Google Business Profile Manager.
You can sign up using your Google account or create a new one for your business.
Step 2 – Add your business
Next, it's time to add your business to your profile.
Search for your business first; if it doesn't appear, click 'Add your business to Google' in the drop-down menu.
Once you've done this, you'll have to pick a category for your business. Make sure you choose a relevant category for your company's services.
Step 3 – Type in your location
You're doing fantastic so far – so onto the next part. Adding your location.
If you have a physical location for your business, you'll have to input your store's address and location on Maps.
Don't have a physical office? Then you'll only have to submit your region.
Step 4 – Input all your contact information
Next on the list is to add in your contact information. Correct contact information is essential: if you input the wrong information, nobody will be able to get in touch with you.
Step 5 – Verify your business
You'll have to enter your actual address to verify your business so Google can send you verification. Don't worry; this isn't shared with the public and is only used to verify your business!
If you're a physical business, you will get a postcard mailed to your location with a pin. You can verify your business through email if you're a service-area business.
Once you've received your code, you'll have to input it here to complete verification.
Step 6 – Optimize your profile
Congratulations, you now have a verified Google Business Profile.
But what do you do next?
You optimize the 💩 out of it!
Add your:
Opening hours
Business description
Images
Social media links
Website link
There's more to optimizing your Google Business Profile than adding a few images. So, head over to your Business Profile Manager dashboard, and we'll show you how to optimize your profile to get more high-quality leads for your business.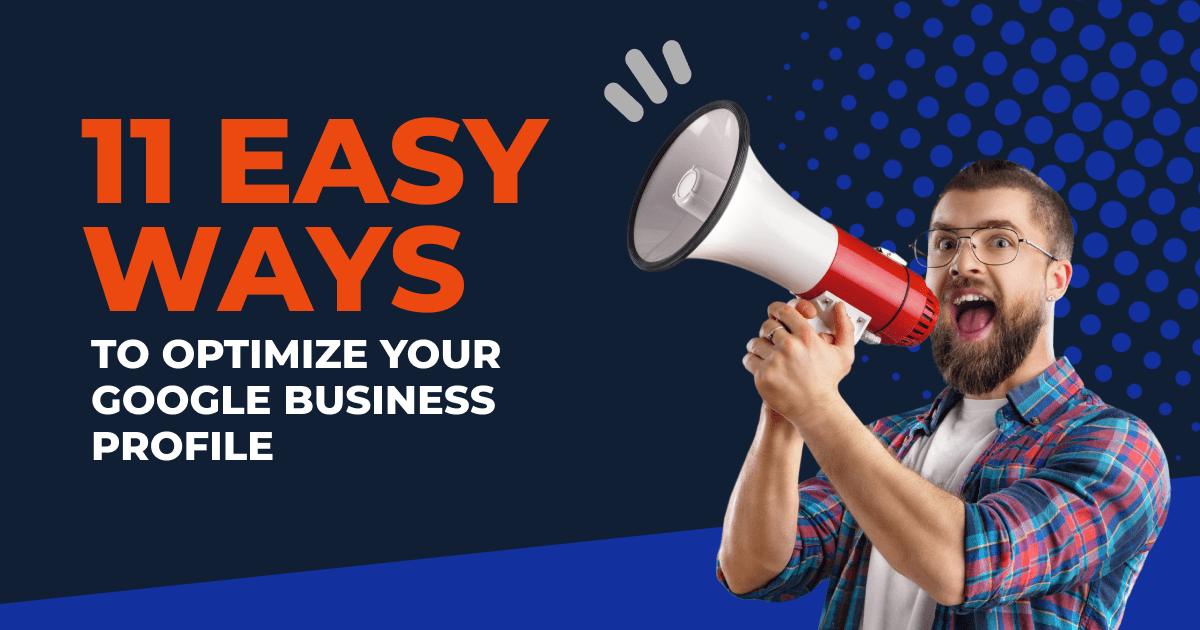 11 easy ways to optimize your Google Business Profile (Google My Business)
Now that everybody has their Google Business Profile sorted, it's on to the main event. The real reason you're here: How to optimize your Google Business Profile in 11 simple ways.
1. Complete all elements of your profile
You should have already finished this, but if you didn't get around to it, now is the time to complete every element of your profile.
Customers are 2.7 times more likely to consider you a reputable business if your profile is complete and you're on Google Maps. 70% of users are also more likely to visit your website and 50% more likely to consider converting if you have a complete profile on Google Business Profile.
So if you want to get more and more customers interested in what you're offering, now is the time to complete your profile and attract more prospects.
2. Write a compelling business description
Your business description is what will sell your services to your audience. With only 750 characters available, it's essential to get it right.
Here's what Google doesn't want to see in the business description:
False information
Links
Sales pitches
Promotions
Irrelevant content
Offensive content
Prices
Your Google Business Profile description isn't there to promote your best offers. It's there to promote you as a business.
If you can write a description that shows your audience why they should hire you and how you will help them, then you're going to go far!
3. Encourage clients to leave reviews
93% of searchers read reviews before making a purchase online, so if you don't have a Google Business Profile full of excellent reviews from your happy clients, you might not get as many interested clients as you were hoping.
Having reviews on your profile shows your visitors that you're a credible and trustworthy company to work with. Don't be afraid to reach out to happy clients and ask them to submit reviews to your Google Business Profile.
Make it easy for them to submit a review by emailing them with a direct link to your review form. You can find your review form on your dashboard.
People like things to be as easy as possible, so if you send them the form link, they're more likely to fill it in.
4. Respond to all reviews on your profile
Getting reviews isn't the only important part of getting feedback. You should also respond to every review you get to show your clients that you appreciate the time they took to leave you such a great review.
Responding to reviews makes you 1.7X more trustworthy than businesses that don't. Plus, responding to negative reviews and trying your best to rectify a negative situation will demonstrate to your audience that you're a business that goes the extra mile for its clients.
To respond to reviews, head to your Business Profile Manager and click on reviews!
5. Answer any questions you receive
Reviews aren't the only thing you should pay attention to when it comes to client engagement. You should also keep a close eye on any questions thrown your way.
If a user asks you a question, answer it as quickly as possible and pin it to your Google Business Profile in your FAQ section. This way, if anybody else wants to know the answer, all they have to do is check your questions instead of messaging you.
6. Take advantage of keywords
Using keywords in your profile will help you appear in relevant searches on Google. You can use a keyword tool to discover what words your audience is searching for concerning your services.
Once you've gathered some keywords, try to include them as naturally as possible in your description.
Do not keyword stuff!
Keywords are fantastic, but under no circumstances should you stuff your description full of keywords. Google will notice if you've placed them randomly in hopes of ranking. Instead, just put them into sentences where it makes sense.
7. Avoid stock images
Stock images don't capture as much emotion and feeling as real-life photos of you and your team.
So when you're uploading photos to your Google Business Profile, include photos of your location, work environment, projects, and team. This will bring more of a human element to your business and show your audience, and Google, that you're an excellent business to work with.
Don't forget to update your profile picture with a high-quality version of your logo and a cover photo showcasing your company and team in all their glory.
8. Post regularly on your Google Business Profile
Did you know you can post updates on your Google Business Profile?
This is the perfect way to keep your profile on Google's radar and at the top of the search results. It also lets your audience know that you're active and open.
Posting about projects you've worked on or events you've attended is a great way to get your potential clients interested in what you're doing.
You can post on your profile using the Business Profile Manager. When you post, make sure they're:
High-quality
Free of spelling mistakes
Respectful and relevant
Valuable to your audience
It's important to note that Google might reject any posts that include a phone number in the description.
9. Keep everything updated
Over time, your company will change. You're going to update your logo, change your opening hours, offer different services, and you might even move locations!
If there are any changes in your business, make sure you're also making these changes to your Google Business Profile.
Imagine if a client was interested in what you were offering but when they went to your store they were disappointed to find nobody there – because you'd moved.
Keep your profile updated to avoid losing out on securing another customer.
10. Put special features and attributes to good use
Depending on your category, you can use various features to help advertise your business to your audience.
For example, a restaurant can use special features to upload menus and add photos of the dishes they serve. Businesses that offer services can update their profile to display a list of services.
Extra buttons can be added depending on the business category, like a button for appointment bookings and reservations.
You can check what attributes and features are available using your dashboard. Click on 'Info,' then under 'From the business,' click 'Add attributes.'
11. Use Google's marketing tool kit
I bet you didn't know Google had a free marketing toolkit available.
With Google's marketing kit, you can access free stickers, posters, social post templates, and much more to use on your Google Business Profile.
These are perfect for showcasing projects or highlighting services your business offers.
Take advantage of this free tool and enhance your Google Business Profile!
Well, there you have it, eleven tips to help you optimize your Google Business Profile and get more high-quality clients into your business.
We hope you've learned a lot about improving your Google Business Profile, but if you're not sure where to start, then our team would be happy to help you out.
Here at Local Marketing Pros, we have years of experience helping businesses like you improve their online presence. We'll ensure you get noticed by your target audience so you can rank higher on Google and reach new heights with your marketing.
Need some help sorting out your Google Business Profile? Contact the Local Marketing Pros today!